This delicious pan fried salmon with curry sauce is a quick and simple keto dinner. Perfect for a weekday meal.
This pan fried Salmon with curry sauce is a really quick and simple keto dinner. This meal has quickly become a weekday staple and we enjoy including in our meal plan most weeks. The base of this recipe is any curry paste with some coconut milk and then you can vary the vegetables and the protein if you like. We love that this is all done at once and the curry sauce acts as a side and a sauce all together.
Salmon on keto
Salmon is one of those foods we would really like to have more of in our weekly meal rotation. Every time we have it, we love it and we especially enjoy the flavours of this keto pan-fried salmon with curry sauce. As much as we know how good salmon is for us, it has just never been our go to protein.
The reason we would like to include more salmon in our diets are the health benefits. Salmon has been linked to health benefits like:
Lowers blood pressure
Source of healthy fats
High in vitamins like A, D E and K
Improves memory
Anti inflammatory
Healthy skin
If you are like us and want to add more salmon to your meal rotation, check out some great keto salmon recipes below;
Keto Teriyaki Salmon
If you are looking for the best keto salmon recipe with lots of flavour make sure you give this keto teriyaki salmon a try.
Print
Keto Creamy Lemon Garlic Salmon Recipe • Low Carb with Jennifer
This Keto Salmon Recipe is perfectly seasoned pan seared filets smothered in an unbelievably delicious creamy lemon garlic sauce. Feel Top Chef worthy while preparing this less than 30 minute, low carb gourmet dinner recipe in the comfort of your own kitchen.
Check out this recipe
Keto Fried Salmon with Broccoli and Cheese — Recipe — Diet Doctor
This is how you make a delicious, fresh and healthful dish in just half an hour! Salmon and broccoli go perfectly together – both taste and color.
Check out this recipe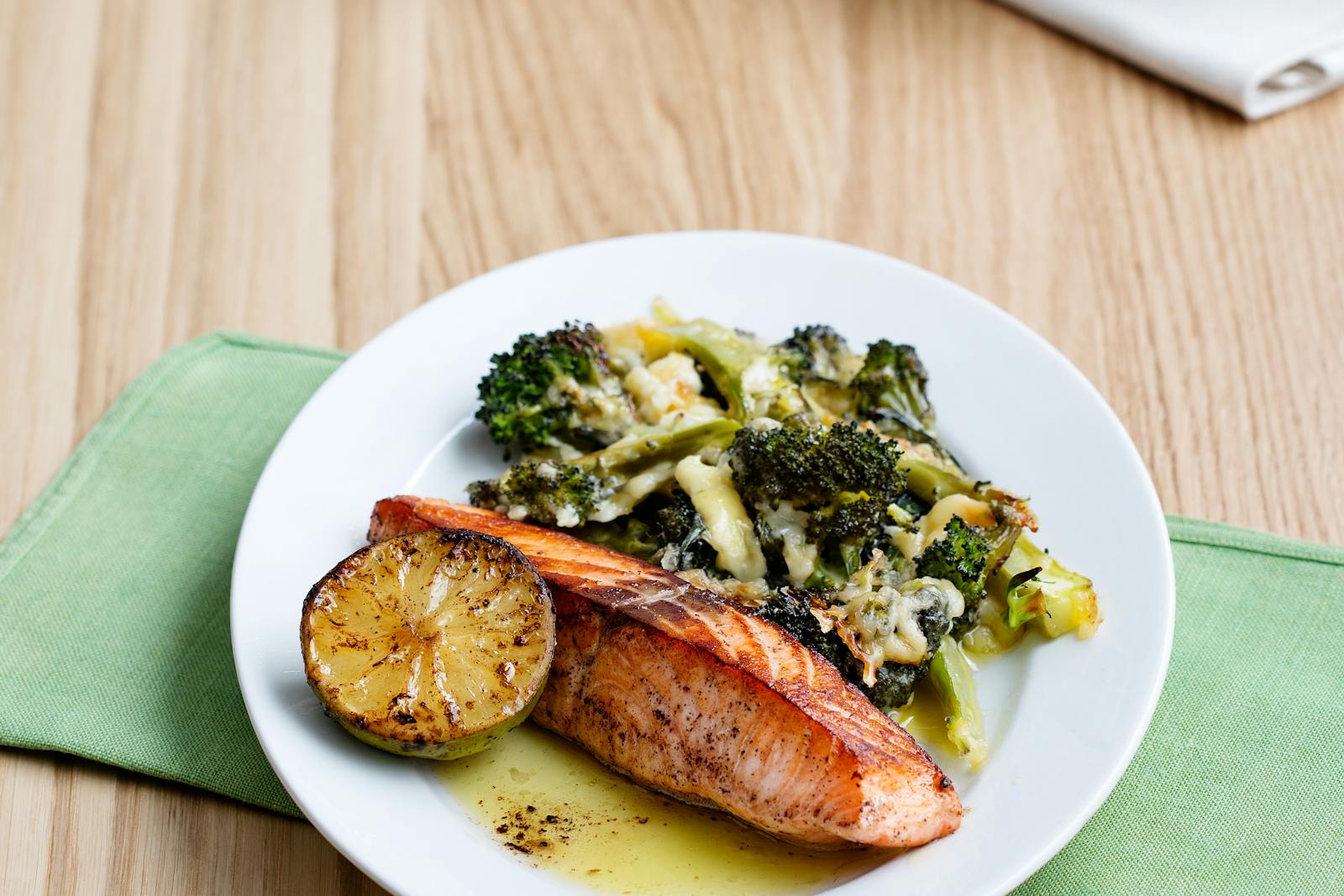 Salmon with Asparagus and Pine Nuts
Crispy pan-fried Salmon with Asparagus and Pine Nuts is simply the best easy fish to cook. The omega 3 fats in salmon are perfect for heart health.
Check out this recipe
Keto-friendly curry pastes
We have found it difficult to find curry pastes in the supermarket that have clean ingredients. There tends to always be some vegetables oils and sugar hidden away in them, which we try to avoid due to their inflammatory affect on our bodies. I feel like I have spent hours scouring all the labels at our local Coles and Woolies some days, trying to find the best options!
That was until we found the Mae Ploy brand at our local Asian grocery store! This brand is amazing. Not only is it delicious, but it uses very clean ingredients with no seed/vegetable oils and sugar in sight. We have tried a lot of their flavours and really like the yellow curry, red curry and Penang. Check out your local IGA or Asian grocery store to see if you can find the Mae Ploy brand, as it really is the best store bought option.
The best supermarket option we have found is the Valcom brand. While it does have some vegetable oil in it, the red curry paste is the best supermarket option from our experience.
Tips
We like to pan-fry salmon with the skin on to enjoy that crispy skin (which is also very nutritious), but you can also use salmon with the skin removed.
Most brands and flavours of curry paste would work in this recipe, so you can use your favourite option or what you have on hand.
If you would like to bulk this meal out more, it would be great served with cauliflower rice or zucchini noodles.
Suggestions
If you don't like salmon, you can use any other fish, seafood, chicken, pork or even a beef steak in this recipe. It is really very versatile!
We like the ease of baby spinach in this recipe, but any green leafy low carb vegetable would work.
To elevate this recipe, you can serve it with fresh herbs like coriander, Thai basil or mint, as well as fresh lime and sliced red chilli.
Equipment
Disclosure: The above post may contain affiliate links. We may earn a small commission from purchases made through these links, at no additional cost to you. Everything we recommend on our website are products we use and love. Thank you for supporting Have Butter will Travel and allowing us to share our low carb experiences with you.
You may need –
Pan-Fried Salmon with Curry Sauce
This pan-fried salmon with curry sauce is such a quick and easy dinner and that means it is in high rotation at our place! I love that you can prepare the veggies and sauce while the salmon is cooking, so you can have dinner on the table in 10-15 minutes. Not only us this pan-fried salmon with curry sauce quick and easy, it is also absolutely delicious! You and your family will not be disappointed with this dinner, that is also so versatile that you can tweak it to suit you.
If you like this recipe, please give it a 5 star rating.
If you like this recipe you may also like…
Ingredients
2

salmon fillets with the skin on

(approx 150g each)

1

cup

coconut milk

(canned)

1-2

tbsp

curry paste

120

g

baby spinach leaves

salt

lime juice

avocado oil for frying
Instructions
Pre heat a small skillet or frying pan over medium-high heat to cook the salmon fillets

While the frying pan is heating up, pat dry the salmon fillets with paper towel and season the skin side with salt

In another frying pan or saucepan add the coconut milk and curry paste, stir to combine and bring to a simmer

Once the original frying pan is hot, add a small amount of avocado oil for frying and heat again

Then add the salmon fillets skin side down and press down with a spatula once they are in the pan. Cook them for 4-5 minutes on the skin side to crisp up and brown the skin

Back to the sauce, allow it to simmer for 1-2 minutes and then taste and season with a squeeze of lime juice and salt to taste

Add the spinach leaves to the curry sauce and allow them to cook down and wilt completely

Once the salmon skin is browned and crispy, season the flesh side of the salmon with some salt and then flip the salmon over. Cook for 2-3 minutes or until the salmon is cooked to your liking

Once the spinach has all wilted down, stir to ensure the curry sauce is completely combined

Divide half of the curry sauce between two shallow bowls for serving

Place the cooked salmon fillets on top of the curry sauce and it is ready to serve
Notes
NOTE: THIS IS BASED ON THE INGREDIENTS WE USED, NUTRITIONAL INFORMATION MAY VARY DEPENDING ON THE INGREDIENTS USED. 
Nutrition Per Serve
Calories:
486
kcal
|
Carbohydrates:
6
g
|
Protein:
38
g
|
Fat:
36
g
|
Fiber:
2
g
|
Sugar:
1
g
|
Net Carbs:
4
g