We are not very good at including a lot of seafood in our every day meals and we have been looking to create a delicious salmon that we could add to our regular meal rotation. This keto teriyaki salmon has become just that meal. It is full of teriyaki flavours and is perfect paired with some steamed Asian greens.
This is a sponsored post by Low Carb Emporium, Australia's leading online shop for our favourite keto-friendly products. All products recommended in this post are based on our personal favourites.
Salmon on Keto
Salmon is one of those foods we would really like to have more of in our weekly meal rotation. Every time we have it, we love it and really enjoy the flavours and this keto teriyaki salmon is the perfect way to have it. It has just never been our go to protein.
I know that this keto teriyaki salmon is definitely going to help with that. We hear a lot about the health benefits of salmon, hence the reason we would love to increase our intake to at least once a week.
Salmon has been linked to health benefits like:
Lowers blood pressure
Source of healthy fats
High in vitamins like A, D E and K
Improves memory
Anti inflammatory
Healthy skin
If you are like us and want to add more salmon to your meal rotation, check out some great keto salmon recipes below.
Garlic Butter Salmon and Asparagus – Recipe from That Low Carb Life
This easy baked salmon recipe is paired with asparagus and drizzled with garlic butter. Ready in about 20 minutes, it's a hit on busy nights!
Check out this recipe
Salmon with Avocado Salsa – Recipe from Gimme Delicious
Tender salmon with cilantro, lime, avocado and tomato salsa. This healthy and flavorful meal is bursting with flavor, color, and texture and is ready in under 20 minutes. It can be grilled, pan seared or baked!
Check out this recipe
Keto Salmon Salad – Recipe from Life Made Keto
Keto Salmon Salad – a delicious loaded meal made with grilled or broiled salmon, cucumber, eggs, tomatoes, avocado, crispy bacon and a creamy and tangy vinaigrette. Low carb, keto , gluten free with Whole 30 & paleo friendly options.
Check out this recipe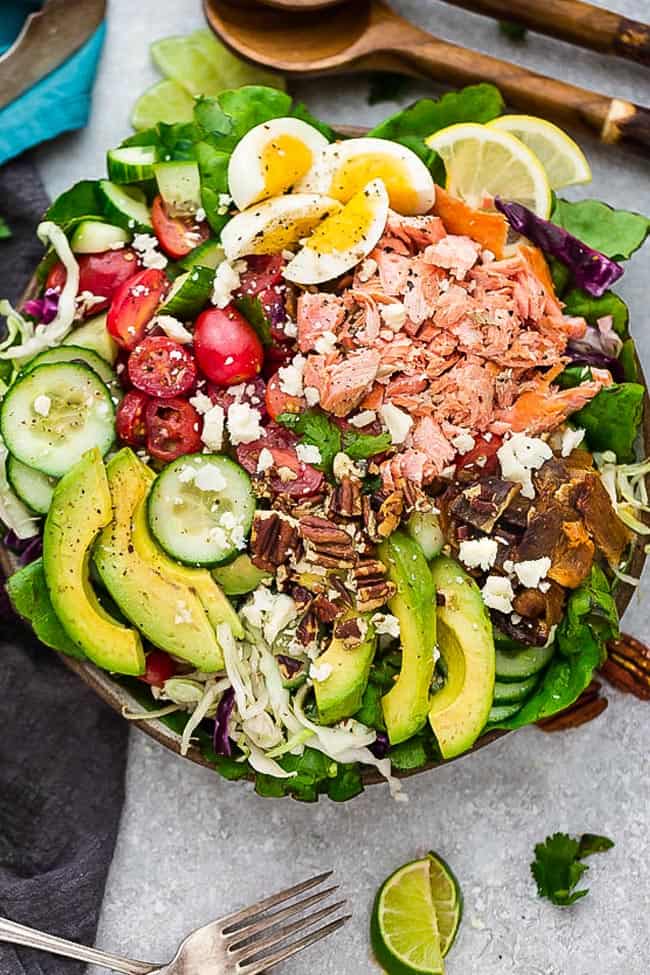 Smoked Salmon Keto Mini QuichesRecipe from KetoDiet Blog
A healthy grain-free quiche recipe made with smoked salmon, broccoli, cheese and herbs. Quick and easy to prepare meal that is ideal for lunchboxes!
Check out this recipe
Niulife Coconut Aminos
We have recently fallen in love with these niulife coconut based sauces. They have a range of different coconut based sauces which are an excellent replacement for soy sauce and tamari.
All of the flavours are available from Low Carb Emporium. You will also find some in the health food section of the supermarkets in Australia.
If you are looking for sauces with clean ingredients, soy and wheat free, you definitely will want to give these a try. The fysh sauce is great to use where recipes call for fish sauce and we like to use the original coconut aminos in place of soy sauce in recipes.
Keto Seafood Meals
Seafood is a great low carb protein. We love to have prawns, grilled calamari and have just started having more fish including salmon and white fish like basa.
If you love seafood and have been looking for some great keto friendly recipes, check out some of our favourites:
Keto Singapore Noodles
Keto Singapore noodles are the perfect Asian low carb meal. This keto Singapore noodle recipe is as good as a traditional Singapore noodle recipe.
Check out this recipe
Print
Keto Tuna Salad Lettuce Cups
Keto tuna salad is the easiest and quickest keto lunch options there is. Tuna & mayo together are delicious and with the crunch of the lettuce cup, perfect.
Check out this recipe
Print
Tuna Patties
Looking for a quick & easy weekday dinner? These keto tuna patties are perfect. Once you try this tuna pattie recipe, it will be added to your favourites.
Check out this recipe
Print
Keto Prawn Cocktail
This prawn cocktail is the perfect crowd pleaser for Christmas or dinner parties. It is quick and easy to make and is the perfect keto & low carb appetiser.
Check out this recipe
Print
Keto Tuna Casserole
Keto tuna casserole is a great family dinner option for busy parents. It is simple to make, delicious and the whole family will love it!
Check out this recipe
Print
Marinated BBQ Prawns
In summer the BBQ is a great cooking option and these keto shrimp are perfect for it. This meal is super delicious and super low carb, so it is a win win.
Check out this recipe
Print
Keto Salt and Pepper Squid – Recipe from Mad Creations
Keto Salt and Pepper Squid is so simple and easy to make with a minimum of fuss. Use my delicious recipe and make this for a delicious meal at any time.
Check out this recipe
Easy Delicious Keto Fish Tacos – Recipe from Mad Creations
These Easy Delicious Keto Fish Tacos are one of my most favourite meals on earth. Can I even say that the very first time I ever tried a fish taco in Las Vegas back
Check out this recipe
Low Carb Emporium
Low Carb Emporium is the premium online low carb website in Australia. They launched in October 2017 and have grown to be the stockists of the best low carb products Australia has to offer. We love Low Carb Emporium and place an order with them every couple of months. Although at the moment it feels like we are ordering more like every couple of weeks.
Jack and Yvonne have gone from shipping products out of their garage to now needing a warehouse to distribute all our favourite products. We were lucky enough to be invited to check out their new premises and were impressed by all the wonderful products they have in stock now.
For this recipe you can purchase the below ingredients from Low Carb Emporium using our code for a discount – HAVEBUTTER5
Tips
You can use salmon fillets with the skin on or off for this recipe. We prefer to use salmon fillets with the skin off.
Suggestions
We like to serve this salmon with steamed Asian greens, but it would also be delicious with cauliflower rice or mash.
Equipment
Disclosure: The above post may contain affiliate links. We may earn a small commission from purchases made through these links, at no additional cost to you. Everything we recommend on our website are products we use and love. Thank you for supporting Have Butter will Travel and allowing us to share our low carb experiences with you.
You may need –
Keto Teriyaki Salmon
This keto teriyaki salmon recipe is a real crowd pleaser. If you are not a huge fan of salmon but would like to include it more in your diet you should definitely give this recipe a try. It is super easy and delicious and you get all those nutrition benefits of the salmon included in your meal.
If you like this recipe, please give it a 5 star rating.
If you like this recipe you may also like…
Keto Teriyaki Salmon
If you are looking for the best keto salmon recipe with lots of flavour make sure you give this keto teriyaki salmon a try.
Ingredients
2

salmon fillets (approx. 200g each)

¼

cup

coconut aminos

1

tsp

sesame oil

2

cloves

garlic, minced

1

tbsp

fresh ginger, minced

2

tsp

sesame seeds
Instructions
Combine the coconut aminos, seasame oil, garlic and ginger in a bowl to make the marinade for the salmon

Add the salmon to the marinade and toss to ensure it is all coated. Cover and place in fridge for an hour

While the salmon is marinating, toast the sesame seeds and set aside.

Once the salmon has marinated for an hour, heat a large non-stick fry pan over medium-high heat

Remove the salmon fillets from the marinade and set aside the leftover marinade

Once the pan is heated, place the salmon into the pan and cook on each side for 3-4 minutes. The cook time will depend on the thickness of the salmon and how cooked you prefer salmon

Once the salmon is cooked, remove, cover and set aside

Add a ¼ cup of water to the leftover marinade and stir to combine

In the fry pan that cooked the salmon, add the marinade and bring to boil and allow to thicken, it should only take a few minutes. Once the marinade has reached a glaze consistency, pour over the salmon

Sprinkle over the sesame seeds and it is ready to serve
Notes
NOTE THIS IS BASED ON THE INGREDIENTS WE USED, NUTRITIONAL INFORMATION MAY VERY DEPENDING ON THE INGREDIENTS USED.