We are in the middle of winter here at the moment and it is definitely soup weather. Soup is one of my favourite lunch options in winter. Of all the delicious soup options, I would have to say pumpkin soup is my favourite. When Erika started developing this keto pumpkin soup, I was definitely very happy to take this for lunch. The curry and coconut flavours are perfect when paired with pumpkin.
This is a sponsored post by Low Carb Emporium, Australia's leading online shop for our favourite keto-friendly products. All products recommended in this post are based on our personal favourites.
Low Carb Soups
Soups are a great low carb and keto option for lunch or dinner and are perfect for winter. We love to cook a batch of soup on the weekend and then we have lunches for the rest of the week.
I have often said you can find a keto version of any of your favourite foods. These soups are a perfect example. We are super lucky to be living in a world where we can google anything and have 100's of choices right in front of us. If you haven't tried it, give it a go. Think of your favourite food and pop keto in front of that, pop it into google and see what you come up with. It's amazing!
I have found some wonderful low carb soups for you to try. We have been having the keto chicken soup a few times recently and it is amazing. I'm really keen to try the mushroom soup and the tomato soup. YUM!!
Keto Chicken Soup
This keto chicken soup is a creamy soup sing shredded chicken and some vegetables. It will definitely be a hearty meal that warms you from the inside out.
Check out this recipe
Print
Keto Laksa
This keto laksa is packed full of flavour, and is so quick and easy to make. It will quickly become a winter favourite in your weekly meal plan.
Check out this recipe
Print
Keto Cauliflower Soup
This keto cauliflower soup is super simple to make and so delicious with the smoky flavours of baon and paprika paired with the smooth and creamy texture.
Check out this recipe
Print
Keto Minestrone Soup
Mad Creations Keto Minestrone Soup is just like the real thing without the carbs. A super easy keto recipe that is ready in minutes.
Check out this recipe
Keto French Onion Soup – Keto French Food
Onion soups were considered for the poor, as onions grew easily and became a staple. Modern versions of the keto French onion soup originates from Paris.
Check out this recipe
Keto Low Carb Roasted Tomato Soup Recipe | Wholesome Yum
This easy low carb tomato soup recipe is bursting with roasted tomatoes & fresh basil. Who knew keto roasted tomato soup could be so delicious? There's a paleo option, too.
Check out this recipe
Keto Cream Of Mushroom Soup – Headbanger's Kitchen – Keto All The Way!
A rich and heart mushroom soup
Check out this recipe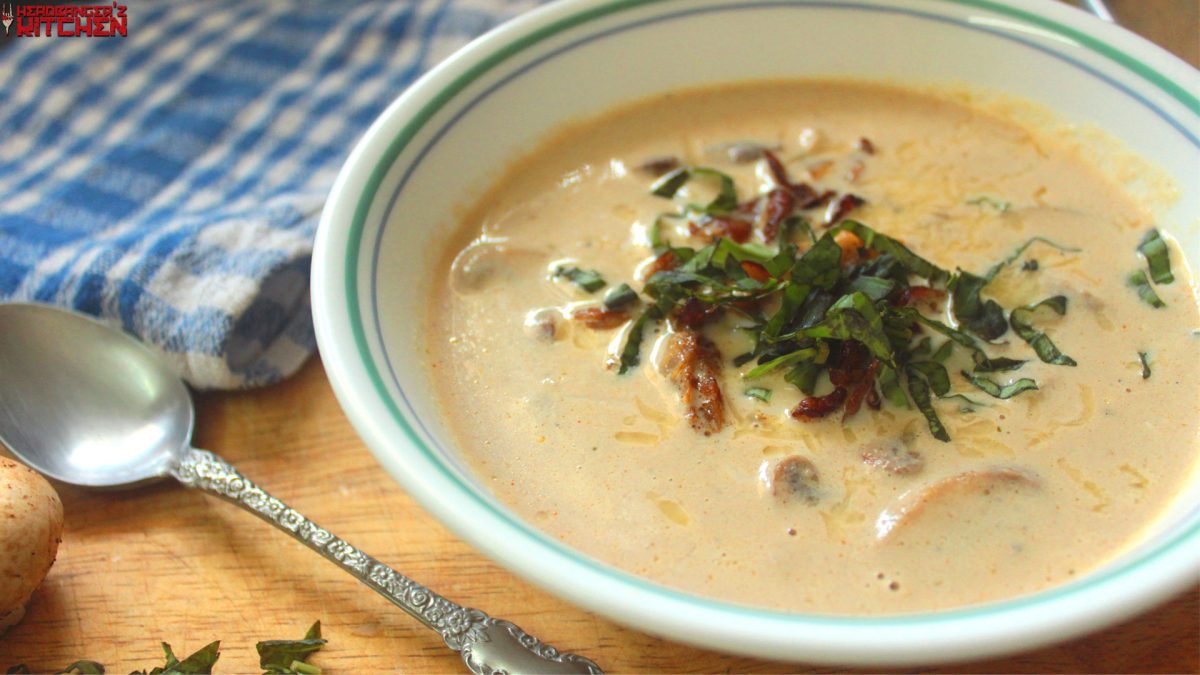 Keto Pea and Ham Soup with Hemp Seeds
With the use of hemp seeds our Keto Pea and Ham Soup is low carb and protein packed. Trust me you will love this soup and not miss a pea.
Check out this recipe
Pumpkin on Keto
Pumpkin is quite possibly one of the most debated ingredients for people living a keto lifestyle. Many feel that pumpkin doesn't have a place on a ketogenic lifestyle due to the carbohydrate amount.
Our attitude at Have Butter will Travel is that vegetables like pumpkin, carrot and swede, are a healthy addition to our keto/low carb lifestyle and we are happy to include them in our lifestyle. We have found that pumpkin does not kick us out of ketosis and so we are of the opinion that it works for our keto lifestyle.
Some of the most popular pumpkin variety in Australia are;
Butternut 6.9g net carbs per 100g (raw)
Kent or Jap 5.9g net carbs per 100g (raw)
Queensland Blue 8.4g net carbs per 100g (raw)
Jarrahdale 4.3g net carbs per 100g (raw)
Golden Nugget 4g net carbs per 100g (raw)
The carbohydrate information above was sourced from foodstandards.gov.au.
While this recipe calls for the use of butternut pumpkin, if you are concerned about the carbohydrates you can always substitute a different variety of pumpkin that is lower in carbs like a golden nugget or jarrahdale.
Mingle Seasonings
We first found Mingle Seasonings at La Manna Supermarket in Essendon. Since then we are so happy that our favourite online low carb store, Low Carb Emporium now stock them. Their seasoning blends only use herbs and spices with no fillers and no sugar. We love to use them to to season our steak, chicken wings, hamburgers and roasting vegetables.
Low Carb Emporium
Low Carb Emporium is the premium online low carb website in Australia. They launched in October 2017 and have grown to be the stockists of the best low carb products Australia has to offer. We love Low Carb Emporium and place an order with them every couple of months. Although at the moment it feels like we are ordering more like every couple of weeks.
Jack and Yvonne have gone from shipping products out of their garage to now needing a warehouse to distribute all our favourite products. We were lucky enough to be invited to check out their new premises and were impressed by all the wonderful products they have in stock now.
For this recipe, you can purchase the below ingredients from Low Carb Emporium using our code for a discount – HAVEBUTTER5
Tips
We like to use butternut pumpkin in this soup, but you could use whatever pumpkin you prefer or have available.
Be careful when blending hot liquids. Don't fill your blender more than half way and take care when removing the lid.
If you don't have any bone broth, store-bought chicken stock works just as well in this recipe.
Suggestions
We like to make a batch of this and then portion it up to store in the freezer. It is perfect to them grab out for a work lunch or for dinner on a busy night.
If you are someone that likes to pair your soup with a bread roll, we would highly recommend making these delicious cheesy biscuits from Flav City.
Equipment
Disclosure: The above post may contain affiliate links. We may earn a small commission from purchases made through these links, at no additional cost to you. Everything we recommend on our website are products we use and love. Thank you for supporting Have Butter will Travel and allowing us to share our low carb experiences with you.
You may need –
Keto Pumpkin Soup – Curry & Coconut
This keto pumpkin soup recipe is silky smooth and thick in texture and packed full of flavour from the curry and the coconut. This keto pumpkin soup is perfect for winter and works well for lunches and dinners.
If you like this recipe, please give it a 5 star rating.
If you like this recipe you may also like…
Keto Pumpkin Soup
This keto pumpkin soup recipe is silky smooth, lovely and thick and full of flavour. If you love pumpkin soup you need to give this a try.
Ingredients
2

tbsp

coconut oil

1

brown onion, chopped

1

tsp

salt

1

packet

Mingle Seasoning 'Curry in a Hurry' spice mix

1

kg

butternut pumpkin, chopped

4

cups

chicken bone broth or stock

1

can

coconut cream (400ml)
Instructions
Heat a large saucepan over medium heat and add the coconut oil to melt

Add the onion and salt to the saucepan and cook for five minutes, until it has softened

Add the 'Curry in a Hurry' spice mix to the onions and cook while stirring for one to two minutes to release the fragrance

Add the pumpkin and the broth/stock to the saucepan and bring to a simmer

Simmer until the pumpkin is cooked through, approximately 20 minutes

Remove from the heat and allow to cool slightly. Then blend using a stick blender or in batches in a blender until completely smooth. Be careful blending the liquid while it is still hot

Return the blended mixture to the saucepan over medium heat and add the can of coconut cream

Stir to combine the coconut cream and heat through

IOnce it is hot it is ready to serve. We like to garnish it with some chopped coriander/cilantro
Notes
1 serve = 1 cup of soup
NOTE THIS IS BASED ON THE INGREDIENTS WE USED, NUTRITIONAL INFORMATION MAY VERY DEPENDING ON THE INGREDIENTS USED.