Meal plans can be super helpful for anyone getting started with a ketogenic way of eating to set you up on the right track from the beginning. They are also great for people who may be struggling with variety, who are experiencing weight loss stalls or who may be trying to overcome certain health conditions. It can be hard to find the best keto meal plans, so we have done the work for you.

10 Best Keto Meal Plans
We have scoured the internet for you to come up with 10 best keto meal plan options to help you with finding the one perfectly suited to your needs.
Focus
Subscription based
Basic recipes
Weight loss
Beginners
Length
Subscription can be monthly, quarterly, yearly or ongoing.
What's included
7 day plan delivered to your inbox every Wednesday
Exact calorie and macro breakdowns for effective and easy tracking
Never-ending recipes
Ready-to-go shopping lists
Easy to make recipes
Cost
Monthly is $9.99USD a month, quarterly is $8.33USD a month and yearly is $7.49USD a month. Making this a great cost effective option as for $89.88USD a year you get a whole years worth of meal plans.
Best suited for
Beginners
Someone looking for all the hard work of macro calculation to be done for them
Can it be trialled
Yes. You receive the first 7 day plan free. You'll be charged 1 week from the day you sign up to the meal plans. The interval at which you are charged after the first time will depend upon whether you selected the monthly, quarterly or yearly plans during sign up.
Final thoughts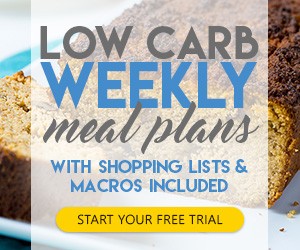 This plan is an excellent option for someone looking for a subscription style weekly meal plan. The benefit of a subscription is the variety of recipes and that it is ongoing. This allows you to use it for a month to kick start your ketogenic lifestyle or sign up for the year and take the stress out of planning meals and working out macros.

Focus
Information and resources
2 programs bundled together
2 x 30 day meal plans
Getting started and what to do next
Healing your body
Community with a private Facebook group
Length
2 x 30 day meal plans
What's included
The complete beginners guide to keto fat loss
A 30-Day meal plan
Over 50 quick daily recipes that you can prepare in 15 minutes or less
Over 200 paleo-friendly, gluten-free, grain-free, sugar-free, dairy-free and legume-free recipes
A set of simple spice mixtures that you can use on any of your foods to boost their flavour
Facts and outlines on current events affecting the ketogenic community.
A complete guide to eating low-carb, high-fat, whole food based approach with moderate protein and no dairy, grains, or legumes.
9 key tips that have helped me, and thousands of women like me, make their diet more successful than any diet they've tried before.
A complete rundown of the 12 supplements your body needs to maximize the fat-burning power of a keto based diet.
324 pages on defining your Fat Fueled Profile to kick-start your body's natural healing process using 1 of the 5 profiles.
7 warning signs that will tell you if your diet is causing more harm than good.
15 steps you can take to reverse your hormonal imbalances.
A 6-week mindset alteration system for reducing shame, guilt, and fear from your food choices.
Step-by-step instructions for regulating carbs and 12 symptoms to watch out for during a keto diet.
A 6-week and 7-day practice to body positivity and intuitive eating how-to.
How to work out to prevent health and fitness imbalances
How to boost fat consumption, avoid food allergies, and how to use intermittent fasting to bust through weight loss plateaus.
A 30-day mindful meal plan that allows you to pick and choose the meals you want to eat
Gluten-free, grain-free, sugar-free, dairy-free, legume-free, low-FODMAP, options with minimal eggs
Cost
$67USD
Best suited to
Women
People with health imbalances
Food allergies
People frustrated with their current diet and weight
Can it be trialled
No. As it's a digital program once you download there is no refund.
Final thoughts
The keto bundle is designed to give you all the information at once in a downloadable program. The benefit of this is you have all of the information right from the start. You can decide how deep into the science and the information you would like to go right from the start.
Gaining access to the two programs together allows you to do the keto for beginners and then transition to fat fueled. Many of the other programs get you started for the first month and then you are on your own.
The best thing about Healthful Pursuit is once you have outgrown the program you are on, you can move onto the next step. Start with the Keto Bundle and if this works for you and you love the idea of the hard work being done for you, move onto the Balanced Keto Meal plans (below).
The two programs can also be purchased separately if you feel you don't have the need for both.
Focus
Dairy free
Adaptable for allegeries and food sensitivities
Subscription based, ongoing
Length
Subscription can be monthly, quarterly, yearly or ongoing.
What's included
Complete LCHF weekly plans. Delivered by email every Tuesday.
Dietary modification guide
Shopping lists
3 meals and snacks a day for 7 days
Carb up practices
Intermittent fasting, some breakfasts are tea only
Easy to follow recipes, 5 minute easy prep recipes
Multiple people guidelines to make this easy for the whole family
Cost
Monthly is $15USD a month, quarterly is $12USD a month and yearly is $8USD a month. Making this a great cost effective option as for $96USD a year you get a whole years worth of meal plans.
Best suited to
Women
Paleo friendly keto
Anyone with food sensitivities
People who are dairy free
Can it be trialled
Yes, there is a free sample of the plan. It includes what the shopping list will look like and 7 days of meals
Final Thoughts
Leanne from Healthful Pursuit takes into consideration various food allegeries and sensitives in all of her work. Not only do we love fact that it's adaptable to food sensitivities but we also love that it is adjustable to serve more than one person and incorporates intermittent fasting and carb ups.
The fact that there are different payment options gives you the option to do it for one month, 3 months or for the whole year. Some people will feel they want ongoing support and getting a different meal plan every Tuesday for a year, just takes the stress away from all the planning involved.
Focus
Meal Prep
Budget
Weight Loss
Bulk buying
Quick and easy meals
Length
50 days
What's Included
12 Completely unique and delicious keto meal preps
Over 150 meals planned and made easy with video instructions
2+ hours of entertaining and easy to follow cooking demo videos
Over 100 pages of information neatly divided into 12 PDF meal prep guides
Easily adjustable meal plans for people of all shapes and sizes
40+ Simple yet delicious recipes
Easily modified meal plans based on ingredient preferences and food allergies.
Ongoing access to the materials
Printable shopping lists, nutrition guides and cooking instructions for every meal prep
100% money back
Cost
$97 USD
Best suited to
New to keto
New to cooking and meal prep (the videos make it perfect for the cooking challenged)
Can it be trialled?
They have a 5 day meal plan for free if you sign up to their mailing list
Final Thoughts
After doing all the research for this post, the thing that makes me like this plan is that it's different. The step by step cooking videos are something no one else is offering. If you are someone that has never spent much time in the kitchen and your meals have been mostly processed food with little prep needed, this plan is definitely for you.
Food preparation can be a daunting added step to living a ketogenic lifestyle. You need to be able to do a lot of the prep yourself. Matt and Megha are great at making this transition as easy as possible. This course/plan will pay for itself as it will give you the life skill of being able to cook healthy keto meals for yourself.
Focus
Keto, moderately low carb, dairy free and vegetarian meal plans.
Lots of videos explaining the science and personal success stories.
The subscription is to the full website which gives you more than access to just meal plans.
Length
Many different options for your subscription
What's included
Low carb and keto guides
Recipes
Many 7 day meal plans including getting started, dairy free, keto, low carb, vegetarian
Shopping lists
The subscription includes access to the whole website including meal plans, videos, movies and lots of information and recipes.
Cost
$9USD a month
Best suited to
Beginners
People who love to learn the reasons why
Science based people
Great vegetarian plans
Can it be trialled
Yes, the first month of the subscription is free.
Final thoughts
Diet Doctor was the first resource we used when we began our ketogenic lifestyle. This subscription offers much more than a simple weekly meal plan. The fact that your subscription gives you full access to all the videos and other resources makes Diet Doctor one of the leading websites in this space.
We watched a lot of the videos and movies when starting out and found it extremely useful to immerse ourselves in information to keep us motivated.
Focus
Mind and body
Weightloss
Videos and audio lessons
Community with a private Facebook group
Length
8 weeks
What's included
80 video and audio lessons
Downloadable diet and eating guide, 8 week plan.
Downloadable mind guide
Extensive library covering the scientific, inspirational and psychological facets of the program
A detailed guide on exactly how to eat long term after you reach your ideal weight.
Access content on any device.
Private facebook group
Cost
$297 It is unclear as to if this is NZD or USD on the website
Best suited for
Women
Beginners
Someone who wants to focus on a mind and body connection for weightloss
Can it be trialled
60 day money back guarantee
Final thoughts
This website was recommended in a keto facebook group and we were keen to see what kind of plan they had on offer. Given the initial outlay for this program, the website lacks enough information to make an informed decision around the quality of what is on offer.
The person that had experience with this program explained that there was a large facebook group that was great for having a community and that there is also a naturopath as part of the team. None of this was verified in the promotion of the program on the website.
It is likely to be a very good program, but given the lack of real information and the high cost, it makes it difficult to determine.
Focus
Free
12 week meal plan
5 day soup diet
5 day egg fast
3 day keto kickstart
Community forum
Length
Depends on the plan you decide to use.
What's included
These plans are free. Making them a great resource
The format is in a blog post and gives you links to her recipes for some of the meals.
As this is free some of the features in a paid service like printable PDF's are not included. Not a criticism, just expect a basic plan.
For a free plan it's very good. Works out the macros of the meal, has 12 weeks. Has a shopping list and uses recipes from her website.
Community forum
Getting started with the 3 day keto kickstart information
Cost
Free
Best suited for
Budget Conscious
Just starting a keto diet and want to experience it without any cost
Can it be trialled
It's free. Go for it.
Final thoughts
This would be a great option for anyone on a tight budget that needs some guidance around meals. It lacks the in-depth information and customisation of some of the paid options. For a free resource it is great as it covers 12 weeks and would help you get started.
Focus
30 day getting started
Designed for Women based on an average of 150 different women's macro calculations
Calorie and macro breakdown of each day
Length
30 days
What's included
30 day meal plan
Shopping lists (Some of the comments on the website mention that the shopping list doesn't include amounts and that was very frustrating.)
It is worth noting that the website doesn't offer much about what is included. It does gives a run down of what to expect each week
Cost
Donation. This plan has been set up to buy via a donation, so you can nominate how much you want to purchase it for. Yes, you can purchase it for $0.
Best suited for
Beginners looking for a quick and easy place to start
Women
Can it be trialled
Effectively the answer is yes. You could purchase it for $0 and then pay what you think it was worth once you have it.
Final thoughts
Ruled.me is an excellent resource for recipes and information. It explains the ketogenic lifestyle and all the information you need really well on the website. The promotion they offer around the meal plan doesn't offer a sample of the plan, but you can always purchase the item for free and then decide what it is worth.
I have not done this, but would encourage anyone that does to make sure you make a donation. It is not free to produce this type of content and their website is very informative, I trust that this program would be worth it.
The website also has a forum if you are interested in becoming part of the ruled.me community. I would recommend this program to someone who needs a kickstart that is explained in a simple and easy way.
Focus
eBooks designed for use on tablets
The primal plan includes full fat dairy and the paleo doesn't use dairy at all
Weightloss
Includes the Keto Diet app guide, easy to follow recipes, nutrition and macros for each meal
Length
28 day plan.
What's included
Keto diet app guide
28 day meal plan and recipes
Detailed nutritional facts
Shopping lists
Cost
$29.99 USD
Best suited for
Beginners
People that just want to download the ebooks and manage it themselves.
Can it be trialled
No. You can preview the ebook, but once its downloaded there is no refund.
Final thoughts
Some people looking for a meal plan are looking for an interactive platform and others would prefer something where you download a book and you are good to go. This book is perfect for the person that wants some help and guidance but the ability to go at their own pace.
Focus
Getting started
Email coaching with Aaron Day
Informational videos
Length
30 day program
What's included
90+ minutes informational videos
Complete 30 day meal plan
Email coaching with Aaron from Fat for Weight Loss
30 page Ketogenic tips and tricks ebook
Cost
Enrolment opens on the 27th of each month and the price is not advertised anywhere on his website. You have to signup to the free 7 day plan and then you will be notified once enrolment opens.
Best suited for
Beginners
Can it be trialled
Yes. You can sign up for a free 7 day meal plan.
Final thoughts
The strategy of not advertising the cost works poorly in this instance. The 7 day free meal plan really needed to impress in quality with the meals and it is fairly basic.
This plan seems to be targeted to beginners so to start the very first meal of the plan off with a bulletproof coffee seems to be a strange choice. The idea of having Aaron checking in weekly is great and it makes the plan feel much more personalised.
Well done for making it through all 10 best keto meal plans, gold star for you! Let us know in the comments below if you have come across any great meal plans that we have not mentioned here.
Disclosure: The above post may contain affiliate links. We may earn a small commission from purchases made through these links, at no additional cost to you. Everything we recommend on our website are products we use and love. Thank you for supporting Have Butter will Travel and allowing us to share our low carb experiences with you.
SaveSave
SaveSave
SaveSave
SaveSave
SaveSave